Clandon Golf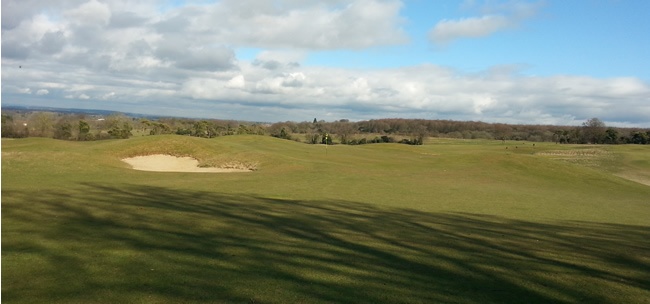 BestGolfinSurrey made its first visit to Clandon Golf Club this week. Importantly, not to be confused with the better known and long-established Clandon Regis Golf Club.
The main reason for our visit is that it is February, we've had plenty of rain which loiters on most courses and we were assured that Clandon with its chalk foundations would have drained well. So the first thing to report is - it's true! We would estimate that well over ninety percent of the ground was firm and dry - a joy at this time of year.
We were lucky as well that we had an unusually mild and sunny afternoon with temperatures apparently peaking at around 14 degrees.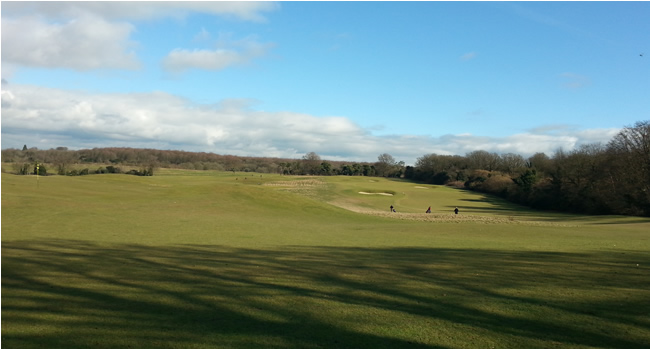 Now unlike the previously mentioned Clandon Regis GC, Clandon is only a handful of years old. As a consequence there is a temporary building acting as starter's hut, pro shop and reception where you can make your own coffee and tea and sit down before and after your round. We had a cheerful welcome from Guy on the day we were there.
You will be starting to build a picture in your mind that this is a friendly welcoming club, hoping for bigger things, but happy with life so far - and that's how we found it.
Now, onto the course. Clandon is an 18-hole course of just over 6000 yards off the whites. Originally built as nine holes in 2008, a huge amount of work went into adding the second nine holes and ensuring the chalk base was consistent throughout. The course seems to begin quite peacefully with some gentle undulations, if any, but then later on challenges you with some long twisting par fives such as the 13th and then the par three 14th and par four 15th requiring you to avoid ending up in a deep dry quarry!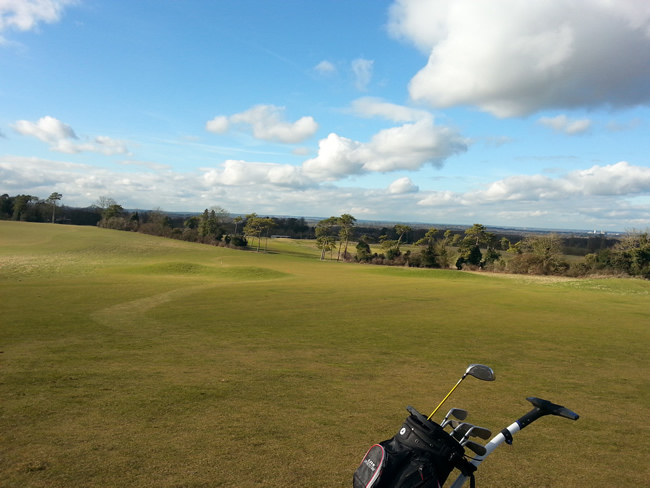 Clandon is set in some lovely high countryside with great views in every direction including a view of Woking in the far distance which is unique. We think it's a great-looking course and hard to believe it's just a few years old. Greens were in good condition and surprisingly quick for this time of year. The bunkers apparently are created with patented porous bases to ensure good drainage whilst keeping out the subsoil.

Whilst Clandon will not be for the golfer looking for a prestigious venue, it will give pleasure to the 'average' player.
We thoroughly enjoyed our day at Clandon and will be back for more.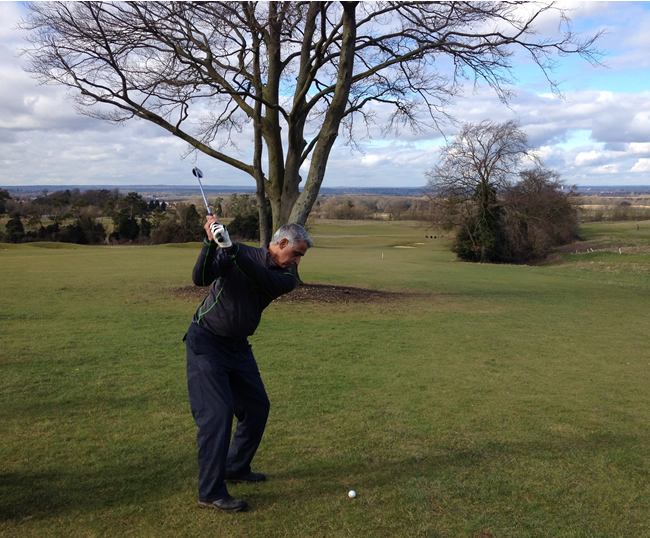 BGiS editor trying a low hook round a carelessly placed tree
Welcoming and friendly
Attractive course with good variety
Drains well in wet weather
Not expensive