Hoebridge Golf Centre
What BGIS says:

There's lots to say about Hoebridge Golf Centre. First of all it comprises three completely different courses:
The main 18-hole Hoebridge course
The 9-hole Shey Copse course
The 18-hole Par 3 Maybury course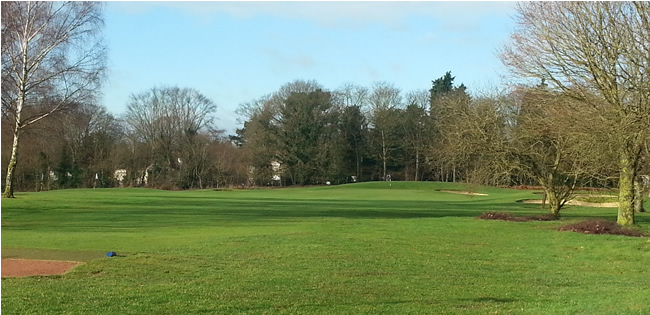 Tenth hole of the Par 3 Maybury Course

One thing which can be said about all three courses is that whenever we've played there they've always been in top condition and look great.

The main 18-hole Hoebridge course is some 6500 yards, is pretty varied in its makeup and includes a couple of elevation changes which will test your cardio-vascular condition. But aside from that, the course gives you some great challenges and is always enjoyable.

The 9-hole Shey Copse is great for higher handicappers and gives you a chance of honing your game.

The Par-3 Maybury is a very popular course for players of all ages including kids, so be prepared for the odd slower round when schools are off. Though a par 3 course, it gets progressively longer and trickier which comes as a bit of a shock.

Driving Range - Hoebridge has a 36-bay range which is covered and floodlit. 20 of these bays now have power tees.

At the beginning of 2013 Hoebridge opened its Pirate's Island Adventure Golf for youngsters of all ages, though we haven't tried it yet!

Summary - great condition, variety of good courses and unashamedly targeting families, though not getting in each other's way.

Important Note. Don't underestimate the 18 hole Par 3 Maybury course!
BGiS editorial members play this course at intervals to sharpen up our short game. The key, naturally, is never to use a tee peg, but treat every hole as an approach to the green. Distances can vary between 50 yards (depending where the tee is positioned on the day) up to 165 yards. After a few rounds on here, we can guarantee you will feel more confident on a full size course when faced with what are normally tricky approaches. For this, the Maybury is an absolute gem.




Three great courses in one location
Nice clubhouse restaurant
Family orientated

Contact Details:
Hoebridge Golf Club,
Old Woking Rd,
Woking, Surrey
GU22 8JH

Tel: 01483 722611

Website